November is the time of year when the air is crisp and the leaves on the trees are turning golden brown. Gently they fall to the ground and crunch under our feet as we trek down the red dirt roads of Prince Edward Island. Bluejays fly from tree to tree and the scent of woodsmoke lingers in the air, drawing us in for cozy evenings spent sitting by the warm fire's glow. Curling up with a book on the couch as soup simmer's on the stove and the aroma of homemade rolls fills the air. There is so much beauty that comes within this cooler, darker month.
Something I have learned in my years on Prince Edward Island is the beauty and importance of bundling up. Those warm moments inside can feel like heaven, but exploring the beauty within nature that the island has to offer around us makes us appreciate those cozy moments so much more. Coming inside the warm house with rosy cheeks and tired legs often leads to a clearer mind and a thankful heart. I couldn't imagine living somewhere that didn't allow me to experience the beauty of changing seasons. Although the colder months can feel long and difficult at times, they also make you appreciate the warmer, brighter ones so much more. If you simply lean into it, you get the chance to enjoy so much more of the island. The month of November still has so much to offer.
It's time to pull out the bag of winter clothes from the attic. Grab a knitted sweater, a warm jacket and the hats and mittens that someone you know made with love. It's time to head out to explore some of the island's beautiful parks and trails. There are still leaves on the trees and moving streams to be admired before the snow covers the ground like a cold, white blanket. Here are a few of Points East Coastal Drive's trails that I have been lucky enough to explore in the last week.
Mooney's Pond Trail
The Mooney's Pond Trail is a beautiful and well-maintained trail in Kings County, PEI. The trail leads you over many beautiful bridges and look-offs, visitors can take in the beautiful views overlooking the pond that it wraps around. It is a short 1km loop making it the perfect family adventure. Bring a thermos of coffee or tea with you and enjoy a warm drink with the crisp, cold air on your face. In addition to the natural beauty of the pond, visitors can also learn about the Atlantic Salmon that inhabit the area. The interpretive centre on the property is open by chance and provides a great opportunity to gain insight into the unique envirnoment. The trail also has plenty of areas for picnics where you can relax and have a bite to eat with family and friends. Whether you're looking for a peaceful stroll or a spot to sit and enjoy the views, Mooney's Pond Trail is the perfect place to take in the beauty of nature.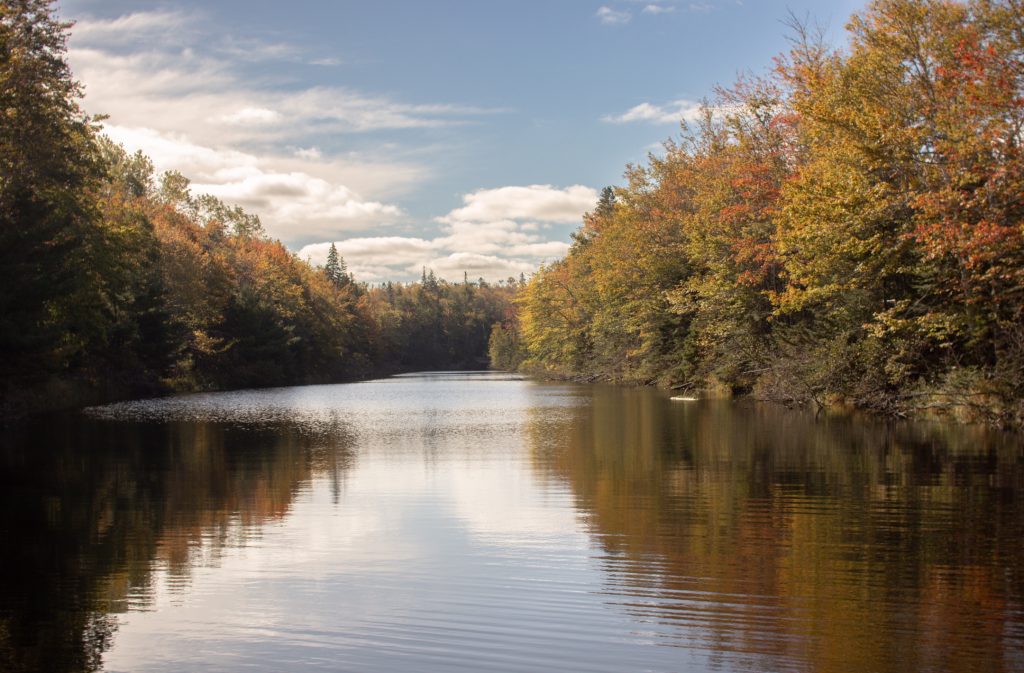 Auburn Demonstration Woodlot Trail
The beautiful Auburn Demonstration Woodlot Trail in Watervale, Prince Edward Island is 4.3kms long and can take anywhere from 30 minutes to one hour to complete depending on your speed. It is considered easy/moderate and loops around leading you through the peaceful, wooded path. Experience the flora and fauna around you as you explore the wooded area and keep an eye out for interesting species that inhabit it's forest. Once you reach the pond, take some time to explore, relax and appreciate the scenery around you.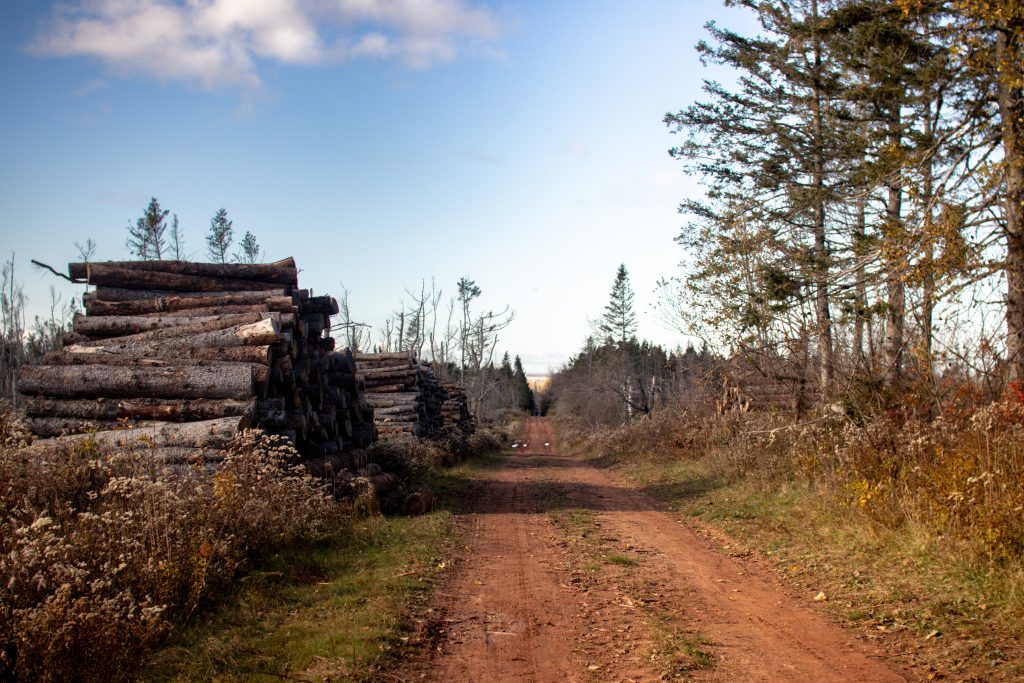 Dromore Trail
Not far from the Auburn Demonstration Woodlot is a hiking-only wooded trail. Dromore Trail is located in Queen's County about 8kms from Mount Stewart, PEI. Follow the red dirt roads that lead you to the beautiful hiking trail. Although Hurricane Fiona caused damage to so many of the island's lovely trails, there is still so much to appreciate. This trail has multiple paths and is around 15km if all of them are included. It is a magical hike through the forest with its wooden bridges, boardwalks, and clay steps that have been built all throughout the walk to keep your feet dry over the wet areas and streams that are spread throughout it's path.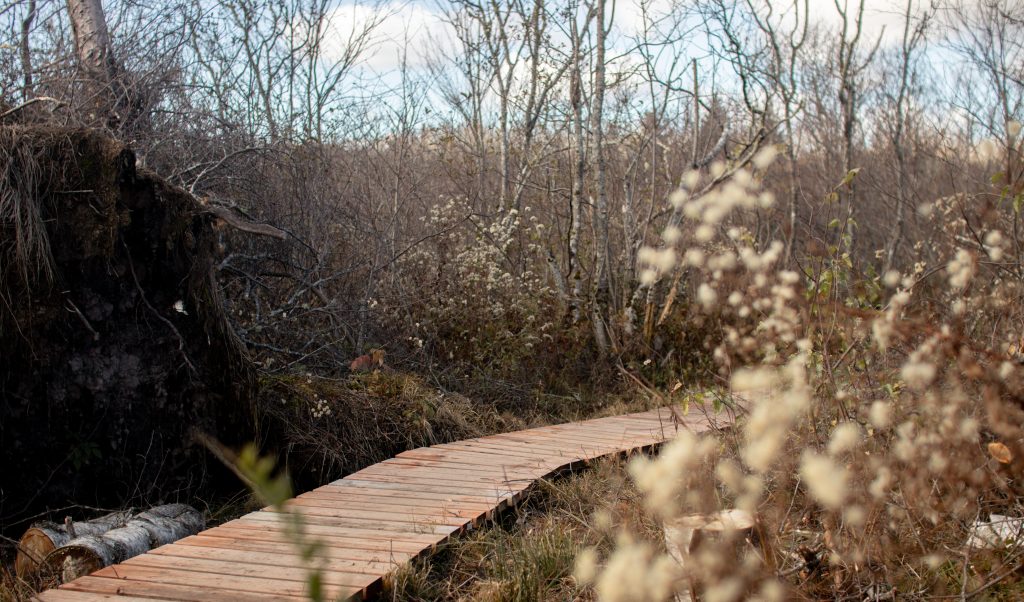 MacLures Pond
Located in the quaint little town of Murray River is the captivating MacLures Pond. Welcoming you to the property is a bridge that overlooks the beautiful, cascading dam and freshwater pond. Admire the view of the trees reflecting on the water as eagles magestically hunt for their next meal. MacLures Pond is the largest freshwater pond in Prince Edward Island, surrounded by Red and White Pines that have been growing there for many years, some dating back to pre-1870. It is the perfect place for nature lovers to birdwatch and identify the different species all around. Bring your furry friend along for the adventure, they will be grateful.
New Harmony Demonstration Woodlot & Scenic Trail
There is something about the way the golden light enters this protected forest, leaving stories in the shadows that paint the red dirt road and make it feel easier to breathe. In Eastern, PEI we feel lucky to be able to experience the New Harmony trail just off of the Baltic Road. The trail is filled with hard and soft woods and interpretive signage for those who are interested. It is well maintained by PEI Forestry and loops around, taking about one hour to explore. It is rare that you will run into another person on this trail, making it the perfect way to unwind and find peace after a long day.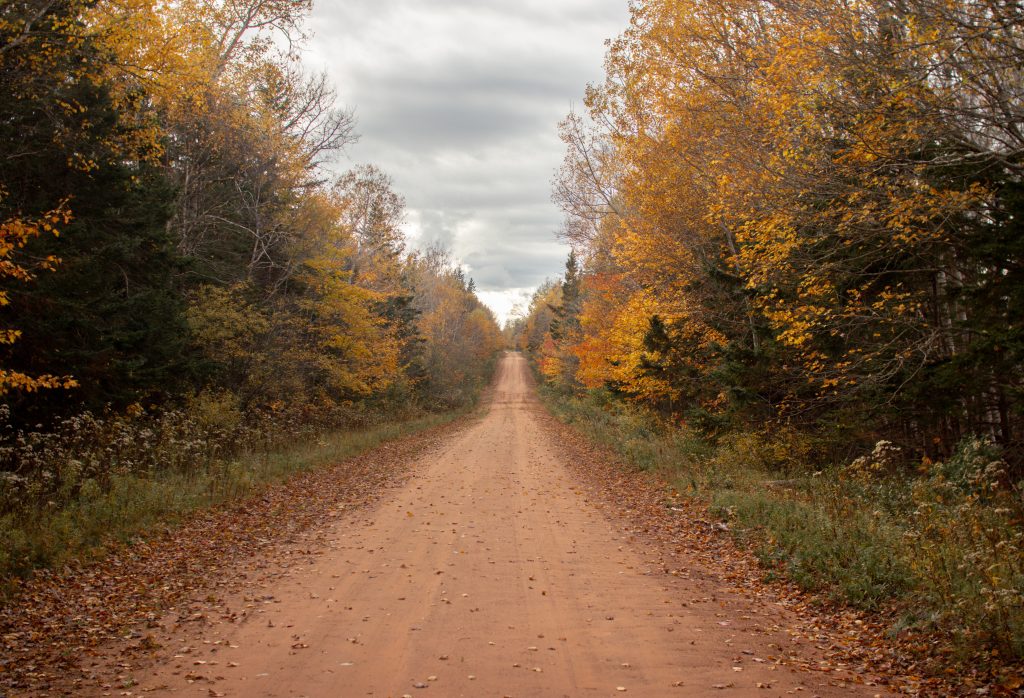 PEI National Park – Greenwich
The dynamic coastal environment of Greenwich is home to wetlands and forests that provide the perfect habitat for various flora and fauna. With beautiful surprises around every corner it is truly a place you want to experience. As you first enter the trail you are welcomed by a traditional Mi'kmaq wigwam that is tucked safely within the trees. A historic fishing village for the Mi'kmaq with archeological evidence of visitation from over 10,000 years ago. The area was also home to the earliest French settlers who migrated from their shipwreck at Naufrage. Greenwich became a PEI National Park in 1998 but before it was a park it was farmed by multiple local families.
As you make your way over the boardwalk, canopied by overhanging trees you come to an opening that stops you in your tracks. Experience the breathtaking views as you step foot onto the floating boardwalk that was built over Bowley Pond. The glorious sand dunes that encircle you as you continue your adventure towards the beach make it feel as though you are travelling through the Scottish Highlands. The dunes form a horseshoe shape around you, giving you a feeling of protection and comfort. Some of the largest dunes on Prince Edward Island live here and there is something about them that makes you realize just how small we actually are in the grand scheme of things.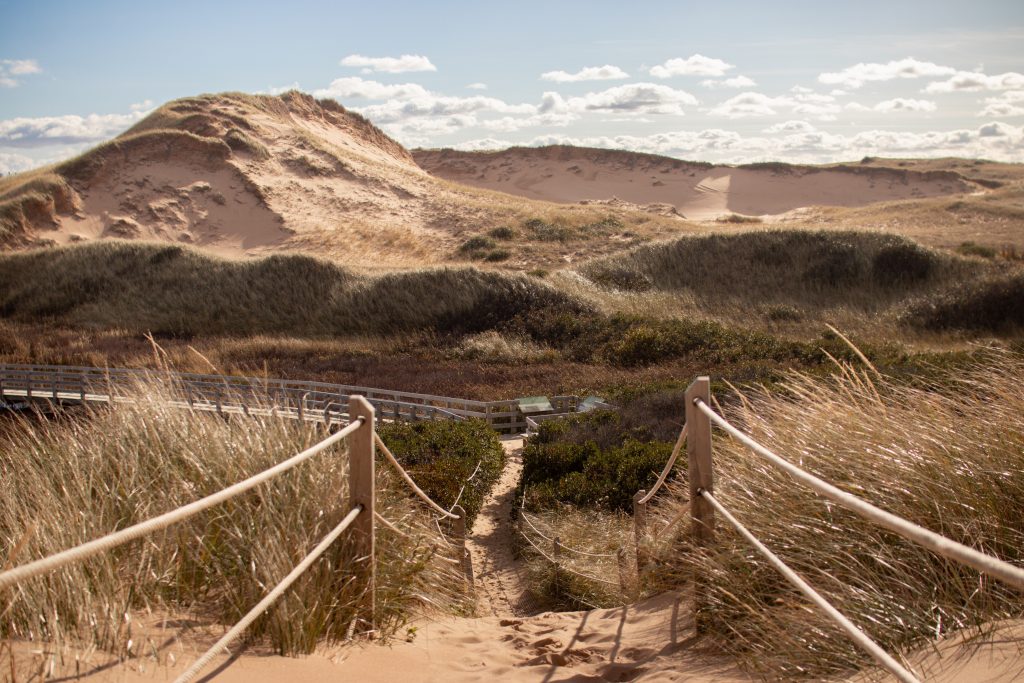 Kelly Green Park/Mieke Trail Park
If you are ever going through Morell, be sure to check out this sweet little Kelly Green Park/Mieke Trail Park that is central to the area. It's easy to walk and filled with many different species of trees and plants. Be sure to keep an eye out as you enjoy the path as it is filled with wooden signage identifying all the different trees and shrubs that grow within it. An ideal location for birdwatching as it's surrounded by woodland and wetland species, the trail was named after a woman named Mieke who was an avid birdwatcher. You'll be sure to spot some feathered friends on your walk!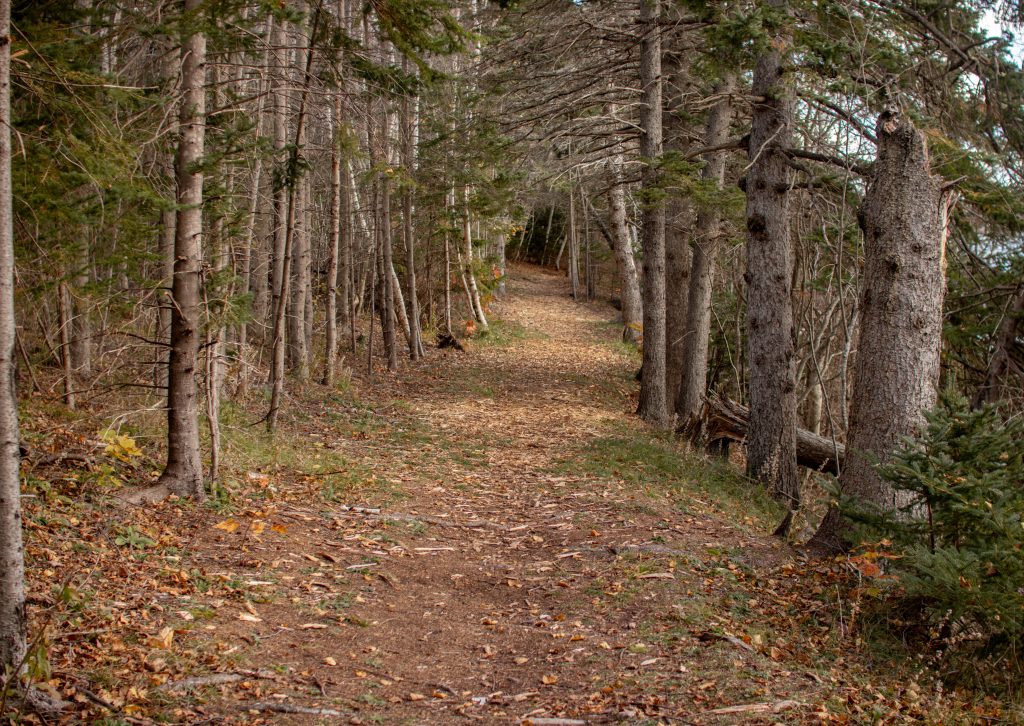 The Island Walk
Something that brings a lot of joy and adventure to islanders is The Island Walk. The Island Walk is a 700km walking trail that loops around Prince Edward Island and takes approximately 32 days to complete if you walk 20-25 kilometers per day. Many people need to plan to walk 20-25kms per day as it takes a lot of time and commitment but thankfully there is no rush and there are many chances to complete the Island Walk in sections which allows you to spend more time exploring the trails and sections that peak your interest.
The Island Walk takes you along the outside perimeter of the Island and allows you to see both tips of the Island from North Cape to East Point. The trail intertwines through Charlottetown and Summerside, as well as many small communities throughout PEI. The walk loops around so you can end where you started.
The Island Walk route takes you along much of the Confederation Trail and along the beautiful ocean, classic red dirt roads and sandy, white beaches. The walk is not considered difficult because there are so many unique options for everyone. There are still a lot of beautiful days left to explore the island and I'm feeling inspired to take advantage of it with my family. Below are links to the sections of the Island Walk that are a part of Points East Coastal Drive. Check out what each section has to offer. The Island Walk could be the perfect autumn inspiration to get you outside in the fresh air. Grab a friend and see how much you can get done!
Section 20- Mount Stewart to St. Peters 27km 10-12 hours
Section 21- St. Peters to New Zealand 23km 7-9 hours
Section 22- New Zealand to Elmira 21km 6-8 hours
Section 23- Elmira to Bothwell 22km 6-8 hours
Section 24- Bothwell to Souris 21km 6-8 hours
Section 25- Souris to Howe Bay 20km 6-8 hours
Section 26- Howe Bay to Cardigan 24km 8-10 hours
Section 27- Cardigan to Montague 12km 2-4 hours
Section 28- Montague to Gaspereaux 21km 6-8 hours
Section 29- Gaspereaux to Murray River 20km 6-8 hours
Section 30- Murray River to Surrey 26km 8-10 hours
Section 31- Surrey to Lake Verde 25km 8-10 hours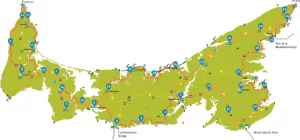 ---
Ashley MacDonald is a Nova Scotian born freelance writer who began using her love for writing and photography as a form of therapy during her son's cancer treatment. She continued to write after he passed away in October 2019 as a way to help keep his story alive, heal her heart and share her experience with grief and sorrow with others who may be struggling. She graduated from Dalhousie University with a Bachelor of Science Recreation in 2014 and moved to Prince Edward Island in 2020 in search of comfort and simplicity.