Welcome to the family side of Points East Coastal Drive, where we know it's best to have amenities close by and free + fun activities planned for visitors of all ages.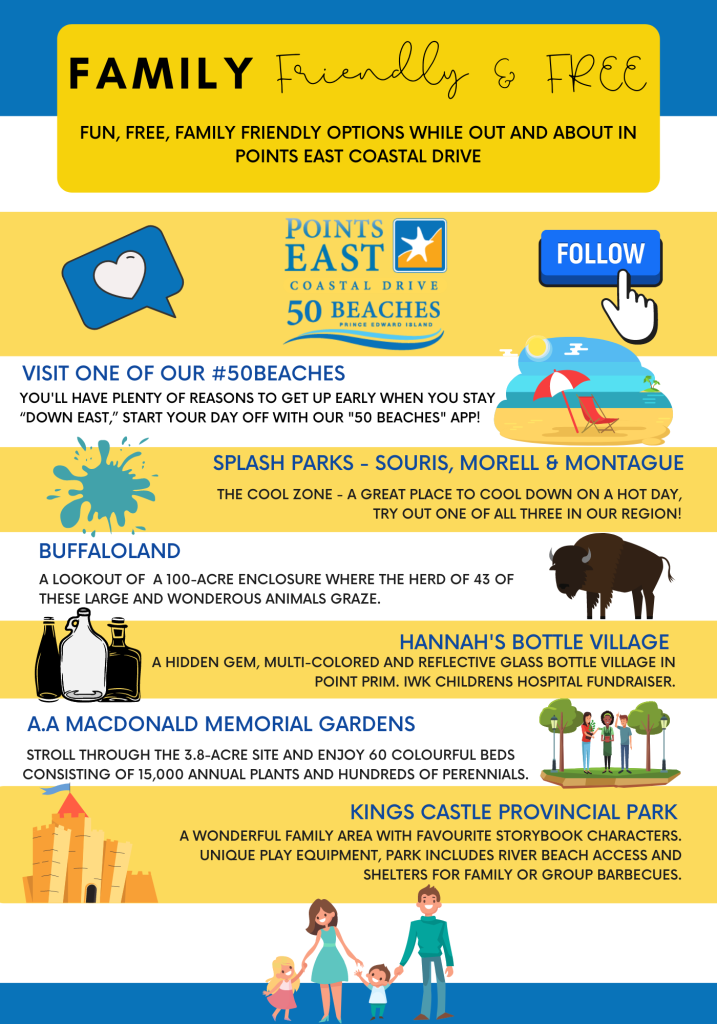 Now, did you really come to PEI if you didn't explore some of the best beaches? Eastern PEI is known for its massive connection of beaches along the coastlines, and we have narrowed it down to our favorite #50Beaches for you all to explore and enjoy.
Some of these sandy paradises are well-known beaches like Greenwich PEI National Park, Panmure Island Provincial Park & Beach , and Basin Head Provincial Park & Beach. If you want to get away from the crowds for a quieter day, get off the beaten path a little and down a red dirt road to some local favorites like Little Harbour, Savage Harbour, Blooming Point or Lakeside and enjoy a quiet day with your toes in the sand.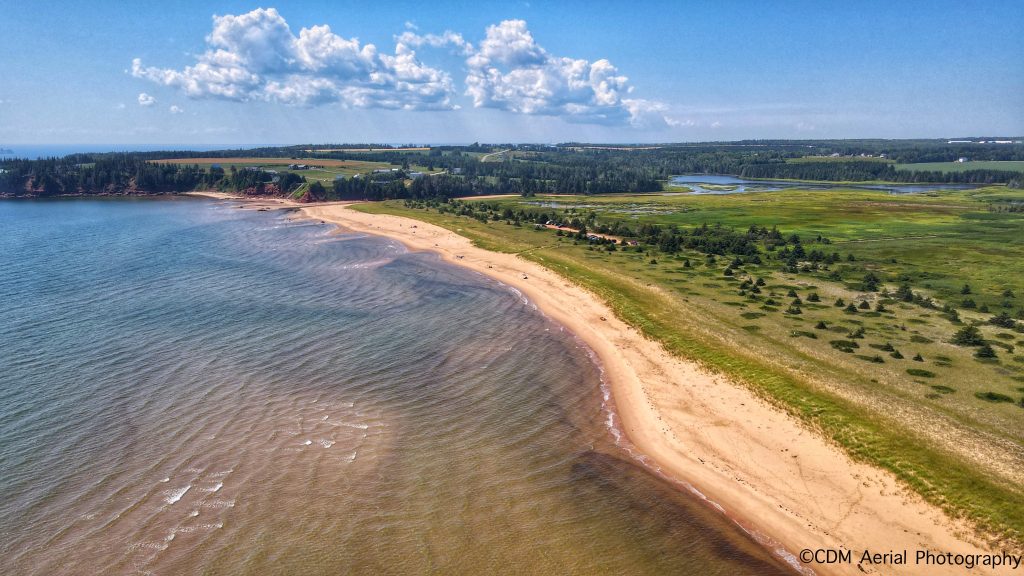 Don't have enough time for an entire beach day? Or maybe you don't feel like dragging all the sand into the car and cottage? Do you think the kids would enjoy some dumping buckets, water cannons, geysers and bubblers that'll entertain them for hours? For a quick idea to cool down, we have three splash pads across the region, with no doubt, one will be close to you! Check them out at Souris Gateway Beach, Leo Rossiter Anglers' Park, and Montague Cool Zone.
Souris Beach Gateway Park Splash Pad – The Gateway Park located in @sourispei features shops, restaurants, refreshments, playground, washrooms, shower, day park with picnic tables, gazebo, and plenty of daytime parking for your RV's. All facilities are wheelchair accessible. Free Admission. Open June – September.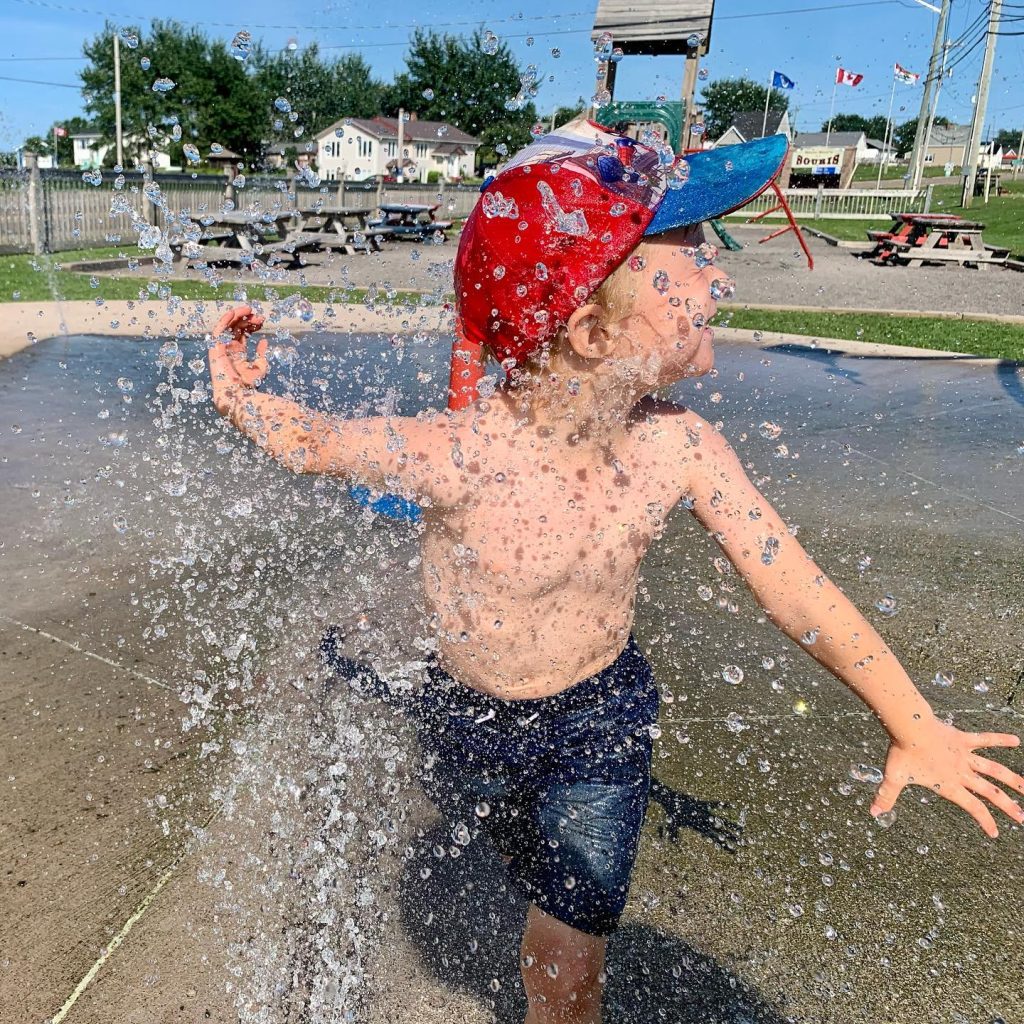 The Cool Zone – Located in Montague, at 22 Sullivan Lane off the Wood Islands Rd close to the Montague Rotary Library and a playground, it is a great place to cool off on a hot summer day. Rules and directions are posted for your safe enjoyment. No admission. FREE and open daily 10 – 7 pm. Washroom and change room available. Open June – September.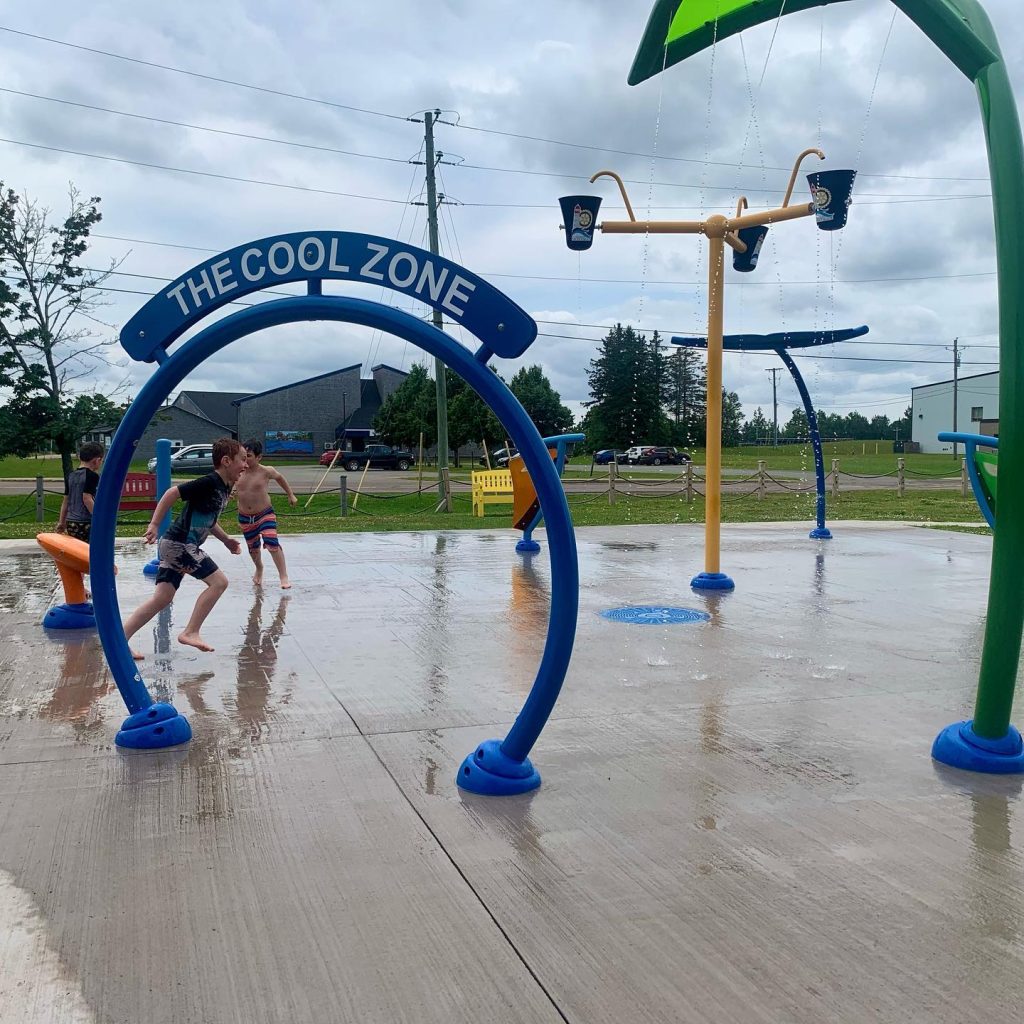 Leo Rossiter Anglers' Park Splash Pad – Located in Morell is the newest addition to the park, just opened in 2021! The Park is ideal for a multitude of activities with a boating slip for sport fishers, a floating dock for mooring, a nautical-themed playground, a covered picnic shelter with running water, electricity, washroom and shower facilities. Located adjacent to a service station and within minutes of a grocery store, community visitor information center and many other amenities.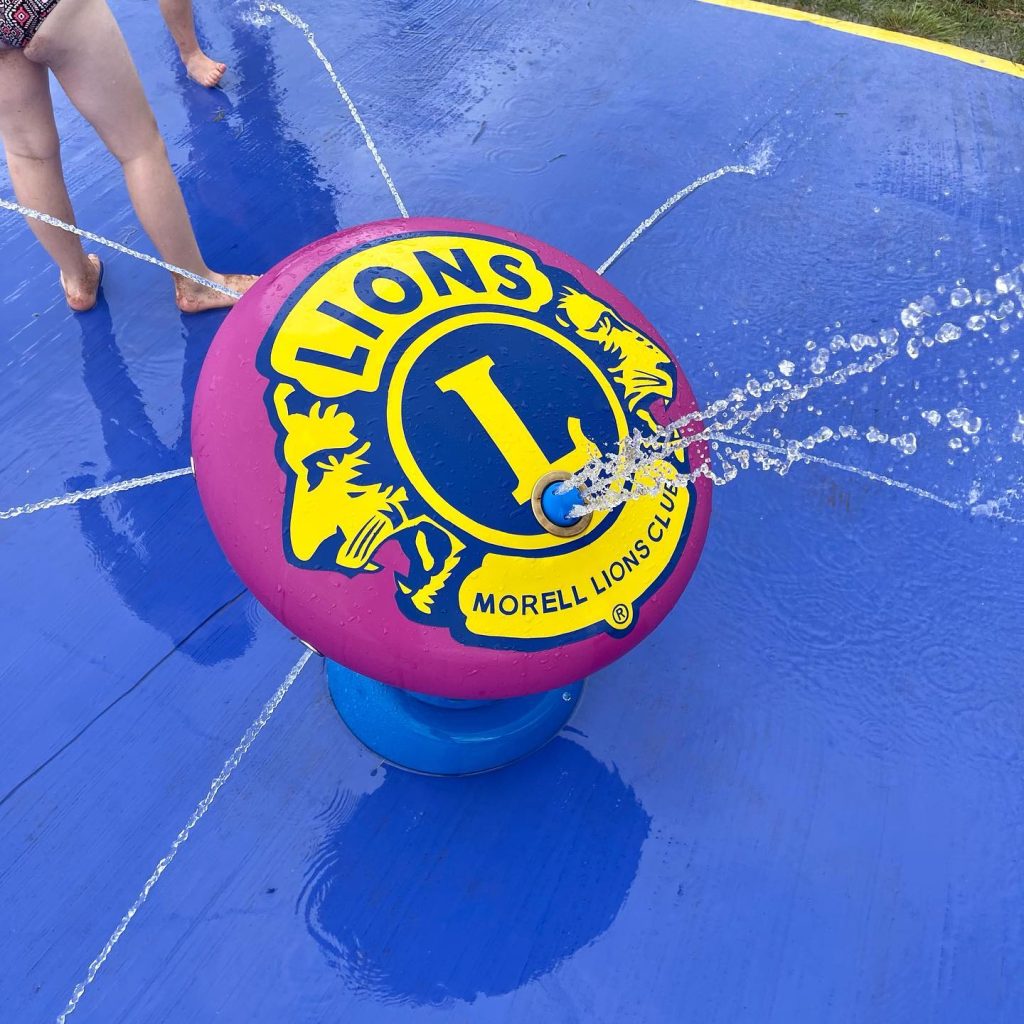 If your hoping to stay on dry land, the animal lovers in your family will love Buffalo Land! This unique destination outside of Montague offers a spectacular view of a herd of massive Buffalo! Buffaloland Park – Located at Milltown Cross, on Route 4, 6 km south of Montague, is open to the public 7 days a week. The grassy path leads to a wooden deck where display pedestals provide information about buffalo. The deck overlooks a 100-acre enclosure where the herd of 43 of these large and wonderous animals graze. The American buffalo is a massive horned woolly ruminant native to North America—a descendant of one of the great Pleistocene giants that wandered across the Bering Strait land bridge during the last Ice Age. Our buffalo history dates to 1973 when the Province of Alberta gifted the Province of Prince Edward Island a herd of prairie buffaloes in honor of the Island's centennial celebrations.
PEI is full of whimsical attractions, and Hannah's Bottle Village should not missed!  The Bottle Village is found on the road to Point Prim which has other attractions like the oldest lighthouse on the island and maybe the best chowder house too, Point Prim Chowder House. Combining the three can make for a good two- or three-hour outing either on the way to the Wood Islands ferry or going to Charlottetown in the opposite direction.
The village itself is composed of over a dozen small buildings using only bottles and cement. There are also other whimsical bottle creations on sight light a giant green Christmas tree. The buildings are large enough to enter and if anything, are more interesting on the inside than the outside. The Sports Centre is particularly noteworthy.
If you're looking to relax and enjoy a picnic, A.A Memorial Gardens in Georgetown is a must! Stroll through the 3.8-acre site and enjoy 60 colourful beds consisting of 15,000 annual plants and hundreds of perennials. The gardens are bordered by the historical Georgetown Court House (1886), the King's Playhouse Theatre, and Holy Trinity Anglican Church (1839) and are in the heart of historic Georgetown in Kent Square, named after "Georgetown's Father of Confederation."  Park benches and picnic tables allow the visitor to relax in undisturbed surroundings. The focal point of the Gardens is the cenotaph, honoring those individuals who served in our nation's military conflicts. See our new pond with lighted fountain, paths to over 60 colourful beds and Canada's largest ship's wheel.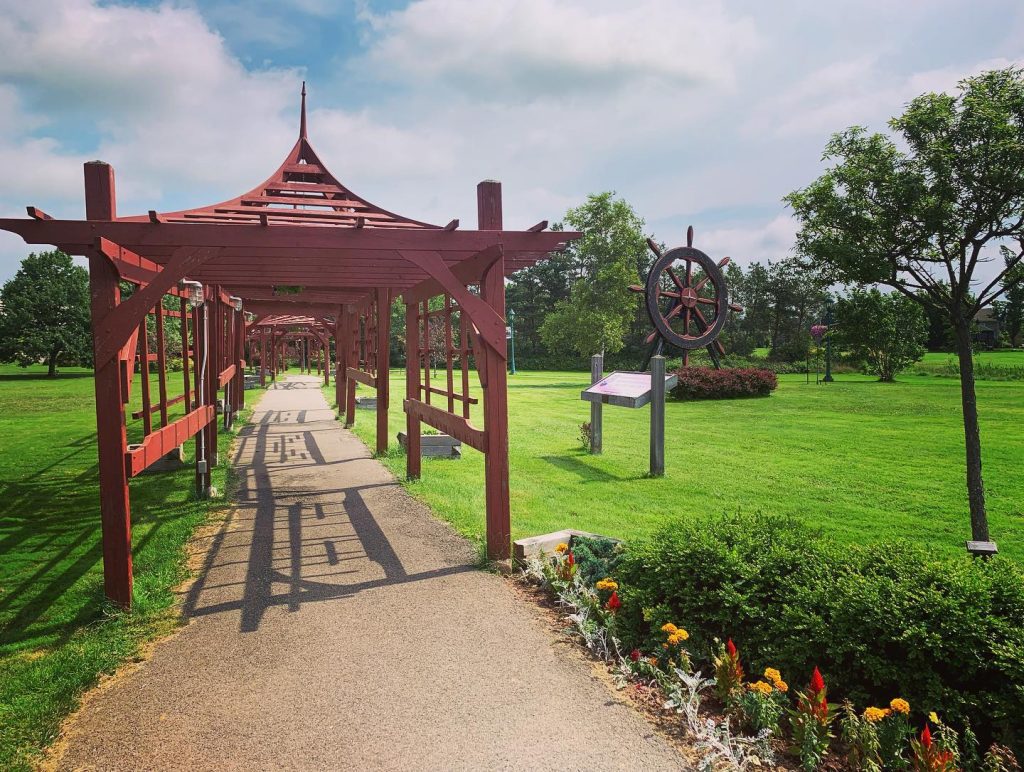 Lastly, Kings Castle Provincial Park is an entire day full of fun! Just bring the sunscreen and your all set! Kings Castle is a magical place with storybook characters in statue form who love to have their pictures taken and to play hide and seek. This day-use park is a perfect family location with open green space and a riverfront beach along Murray River. Park amenities include a large playground with an accessible swing and picnic tables, changing rooms, a two-sided kitchen shelter and a snack bar. Pets are permitted on leash.
Take your time and explore our region, Points East Coastal Drive is full of family friendly things to do, and if your stuck on any ideas, check out our Things to Do section on our website (narrow it down by clicking the region your staying in). Follow us on Facebook or Instagram @pointseastcoastaldrive for more ideas!