History buffs and outdoor enthusiasts will find this 80km route through Prince Edward Island an intriguing chain of historic sites, coastal activities, and cultural venues. Highlights include the restored site of a 1730s French trading centre now known as Roma at Three Rivers National Historic Site, oldest museum on PEI, the commercial and political centres of Kings County, three Canadian Heritage rivers, two championship golf courses, numerous cultural events, and Panmure Island Beach, one of the very best beaches on Prince Edward Island with both and inside and outside shores.
The Three Rivers – Brudenell, Cardigan and Montague – were designated part of the Canadian Heritage River System in 2004. This is a 73km watershed that winds through towns, villages, and communities, draining into Cardigan Bay. The Three Rivers flow, as they have for centuries, past farms, fisheries, and shipyards.
Three Rivers Discovery Route (Murray Harbour North to Cardigan)
Communities include: Sturgeon, Albion, Lower Montague, Montague, Brudenell, Georgetown, and Cardigan.
Attractions include: Garden of the Gulf Museum (the Island's oldest); Kings Playhouse Theatre; several historic wood, brick and sandstone churches; A. A. Macdonald Memorial Gardens in Georgetown; Georgetown Veterans Landing; Cardigan River Heritage Centre and Marina; the Lighthouse at Panmure Island, the Island's oldest wooden lighthouse (open for tours); Roma at Three Rivers National Historic Site; Brudenell River and Panmure Island Provincial Parks, and St. Andrew's Point Day Park. Mellish Pond Heritage Road; beaches (Panmure Island Provincial Park beach, Brudenell River Provincial Park beach, West Street, Morrison's, and Parkers); marinas (Montague and Cardigan); harbours and wharfs (Graham Pond, Sturgeon, Lower Montague, Montague, Georgetown and Cardigan).
Activities include: Championship golf at the 18-hole Brudenell and Dundarave courses; boating along the Brudenell, Cardigan and Montague Canadian Heritage Rivers; horseback riding and walking/cycling portions of the Confederation Trail; Tranquility Cove Adventures in Georgetown; Bogside Brewing and Copper Bottom Brewing in Montague.
Festivals/Events include: The annual Show and Shine Car Show the first weekend in July, annual First Nations Powwow at Panmure Island and Roma Gala Heritage Feast at Three Rivers, as well as dozens of ceilidhs, live theatre performances and community festivals in several locations. Three River also hosts Canada Day in Cardigan, Georgetown Days mid July and Art & Culture Festival the end of July with parades, games and lots of music. Cloggeroo is hosted by in Georgetown in August.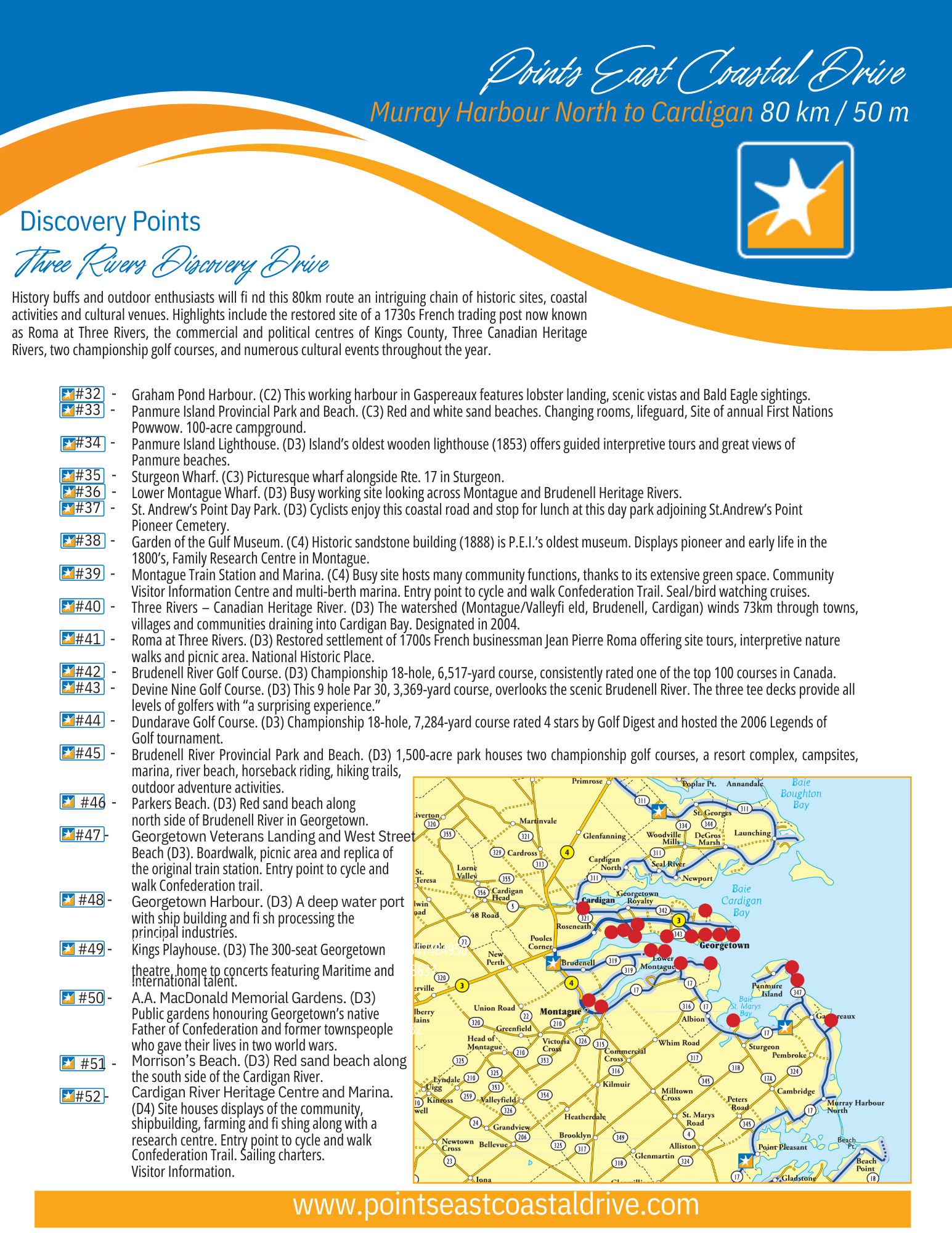 Download Map