Buried deep below the sands and sea off Prince Edward Island lay the wreckages of many ships, containing tales of sailors and fishermen who battled Mother Nature's fury. Islanders have a great love for the sea, but it can be rough and very unpredictable. If you find a map of all the shipwrecks around PEI, it's a bit overwhelming. There are hundreds of boats that sunk – and those are just the ones we know about.
We islanders often think of ourselves as being very separate from the mainland. Isolated from one another, connected only by ferry or bridge. Work and travel by boat were a way of life for islanders for centuries and our coastline is scattered with shipwrecks and proof of their labours.
There has always been a certain amount of intrigue and mystery surrounding the shipwreck at Basin Head Beach. Many have uncovered it and wondered, but few know the truth… Discover now, the local history and sinking of the "Debbie and Bryan"…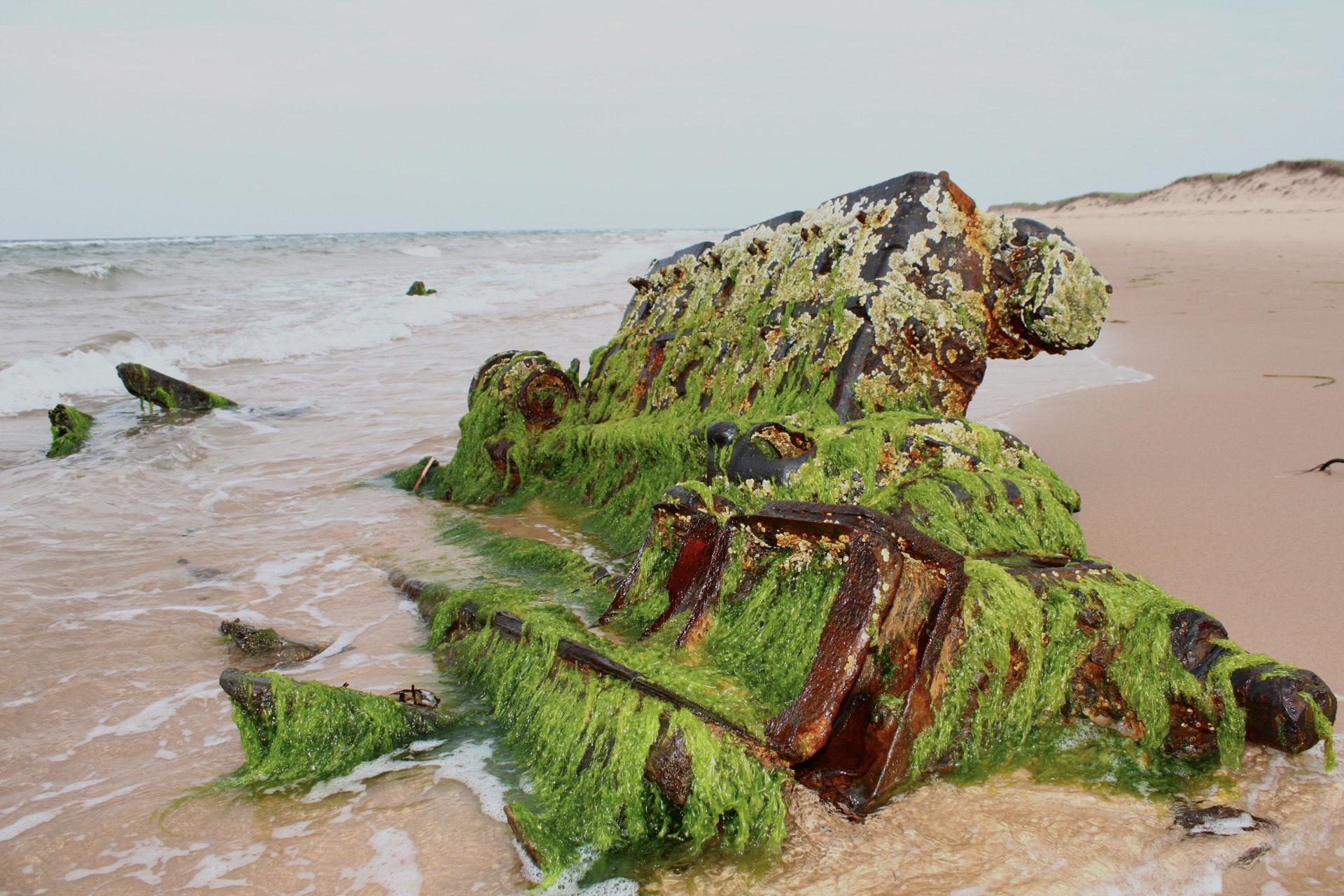 Clive Everett Bruce was born on March 23rd, 1920, in East Baltic PEI. He married Pearl Croucher in 1941 and together they had four sons and three daughters. From the time Clive was a child, he was never much for formal schooling and fishing was always on his mind. The only formal schooling he received was in the winter months, and he even quit that when he was 15 in 1935 to go fishing.
Purchasing his first fishing boat for $170 when he was 17, he trawled for hake, cod, and herring on his small flat, 24-foot-long open boat with a 4-horsepower gas engine. His fishing grounds were off Red Point Beach, where he fished for 13 years until eventually moving his fishing operations to Souris. In 1938, he bought a lobster license, traps, and gear from Felix MacPhee for $375. He then was able to fish lobster each spring at North Lake and go trawling for the rest of the year.
Clive Bruce's most memorable boat was the "Debbie and Bryan". She was a dragger that sank off Basin Head in 1973. Clive said it was a strange incident as it was a beautiful day, with clear skies and seas, however, somehow a frame timber behind the engine broke in half and another of the timbers let go. On a routine check of the engine, the crew found the boat was full of water. There was no warning that they were in trouble until it was too late. The bilge pump did not come on. By the time they realized what was happening, the boat was already sinking. All they had time to do was get in the dory and row to shore.
The shipwreck of the "Debbie and Bryan" has been a landmark at Basin Head ever since. In the early 1970's it was grounded on a sandbar, but eventually, she came apart and pieces came to shore. Over time she was totally buried about a mile up the beach from the Basin Head run. Year's ago, you could sometimes catch a glimpse of the engine poking through the sand, however since Hurricane Fiona, the "Debbie and Bryan" has become incredibly visible at low tide.
To find the "Debbie and Bryan" plan for an hour's walk (there and back), up the south shore of Basin Head Beach, across the bridge and wharf, towards Bothwell. You'll have to time the tide and only go at low tide, at high tide, the wreckage will be underwater. To accurately measure the tide, check out the Tide Forecast. After about 15 minutes, you'll see "her" poking out of the sand like a mirage in the distance. Approximate coordinates are 46.387470, -62.089804
After the wreckage, Clive decided to content himself by fishing groundfish and lobster on a 37-foot fiberglass boat called "Bonnie King" an over wood Richard boat with a 292 Chevrolet engine. Clive fished until he retired at the age of 72 in 1982. Later in life, Clive Bruce was known as PEI's weatherman of the sea, he knew how to observe the moon and the tide patterns with mental notes and predictions of the upcoming weather. No fancy instruments, just a barometer from the 1930's and had almost perfect accuracy. Listen to one of Clive's interviews here, where he speaks about storms, shipwrecks, cod liver oil and more!
Islanders have a certain love for the ocean, and the Bruce family is much like many others here in PEI. Love for the ocean has rubbed off on many descendants of Clive Bruce making it one of the larger families in eastern PEI. The sea is where they all want to be, they are Grampy Clive's legacy.
– Written by Katelyn Bruce, Great-Grand Daughter to Clive Bruce. Katelyn is the social media and marketing coordinator for Points East Coastal Drive, and she definately has a love of the ocean as well. Have you seen our #50beaches content yet? That's all her!
To learn more about shipwrecks on PEI, listen to the HIDDEN ISLAND PODCAST