Cross the Hillsborough Bridge to start the Points East Coastal Drive in the town of Stratford. This 60km area delivers some of Prince Edward Island's most classic pastoral landscape with rolling green fields bounded by the Northumberland Strait. The area is rich in historic sites, several fishing and agricultural communities, scenic look offs, a beach, a lighthouse, two golf courses, a scenic heritage road and an agricultural heritage museum. This historic region is ideal for genealogy buffs, bird watchers and cultural enthusiasts.
The area celebrates its Celtic roots as destination of the Island's original Scottish settlers. The Croft House Selkirk and Heritage Centre displays information about the 800 Selkirk settlers who arrived in 1803 with Thomas Douglas, fifth Earl of Selkirk, aboard the ships Polly, Dykes and Oughton. This was the first establishment of Lord Selkirk in Canada, paving the way for his later settlements in Ontario and Manitoba.
The ships anchored on Orwell Bay just off the, present day location of Lord Selkirk Park. Along with earlier immigrants, they established an enduring Scottish tradition on P.E.I. St. John's Presbyterian Church, built in 1824, is the Island's oldest church, and on its grounds, the Polly Monument recognizes the Selkirk settlement.
Orwell Bay Discovery Drive (Stratford to Pinette)
Communities include: Stratford, Tea Hill, Pownal, Cherry Valley, Vernon Bridge, Orwell, Orwell Cove, Eldon/Belfast (arrival point of the Selkirk Settlers), Point Prim and Pinette.
Attractions include: Orwell Corner Historic Village (agricultural heritage museum and Scenic Look Off of the 1890s); Sir Andrew MacPhail Homestead with a restored 1850s house, 140 acres of gardens, nature centre and walking trails in MacPhail Woods; St. John Presbyterian Church and the Polly monument to the Selkirk Settlement in Belfast; Lord Selkirk Park and Pinette Day Use Provincial Park; The Church of Scotland, built in 1876; St. Paul Acadian and Scottish Pioneer Cemetery; the Croft House Selkirk and Heritage Centre which tells the story of the Selkirk settlement; the Polly Pioneer Cemetery in Mount Buchanan; Point Prim lighthouse, built in 1845, the Island's oldest and only conical lighthouse (open for tours); beaches (Keppoch Road, Tea Hill park & beach, Pinette); harbours and wharfs (MacAulays and Pinette).
Activities include: Golf (Fox Meadow Golf & Country Club and Belfast Highland Greens); Ceilidhs (Orwell Corner Historic Village and others); canoeing, walking trails and bird watching (Pondside Park, Sir Andrew MacPhail Park).
Festivals/Events include: "Ceilidhs", live theatre, and Highland Games.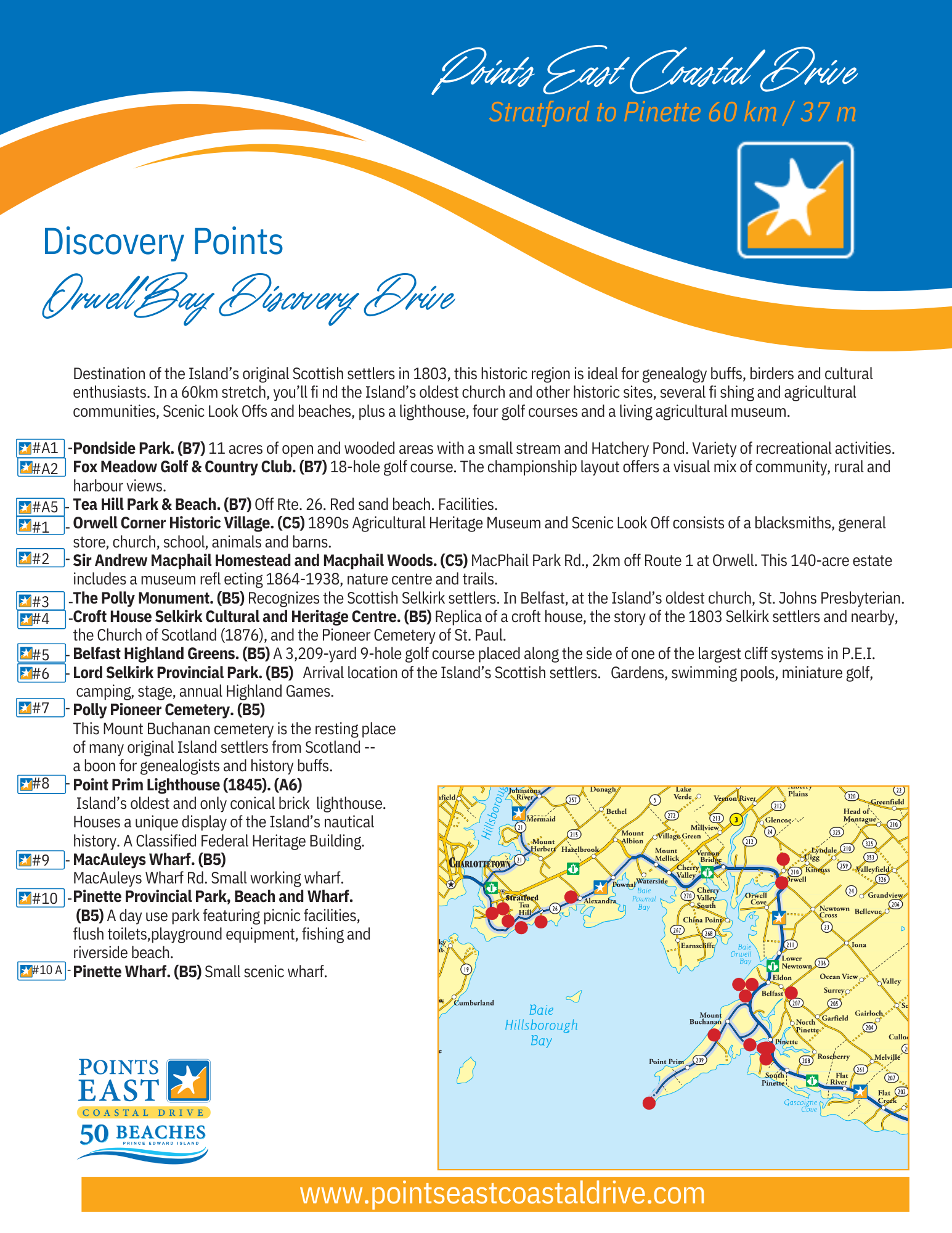 Download Map