Along the shores of the Murray River is a 30km long cluster of agricultural and fishing communities, gorgeous white and red sand beaches and two Heritage Roads. Watch as fresh lobster catches come ashore at Beach Point, Murray Harbour and Machon Point in May and June. In this drive you'll also find the first Canadian lighthouse to receive the distress signal from the Titanic and the galleries and studios of many talented artists and craftspeople.
Eastern Harbours Discovery Drive (Cape Bear to Murray Harbour North)
Communities include: Cape Bear, Beach Point, Murray Harbour, Gladstone, Murray River, Point Pleasant, Cambridge and Murray Harbour North.
Attractions include: Cape Bear Lighthouse with its Marconi Station display; the Kings Castle Provincial Park (Free Day Park) with a playground in Gladstone; Murray Harbour's Rail Head Park & Interpretative Centre; the Murray Head cliff site offers a great view point and rugged shoreline; an old growth pine forest, with a 200 year old stand of trees by MacLure's Pond in Murray River; two Heritage Roads (County Line and Klondyke) beaches (Beach Point, Kings Castle Provincial Park, Seal Cove and Poverty Beach); marinas (Murray Harbour and Murray River); harbours and wharfs (Beach Point, Murray Harbour, Machon Point and Murray River).
Activities include: Sailing; community gardens in Murray River Memorial Park; walking/cycling portions of the Confederation Trail. Seal Cove's 9-hole golf course in Murray Harbour North, and house boat rental at Nellies' Landing. There are also 3 private campground that offer a variety of activities.
Festivals/Events include: The annual Northumberland Fisheries Festival in Murray River (last weekend in July) and ceilidhs (check the Calendar on our web site for current listings).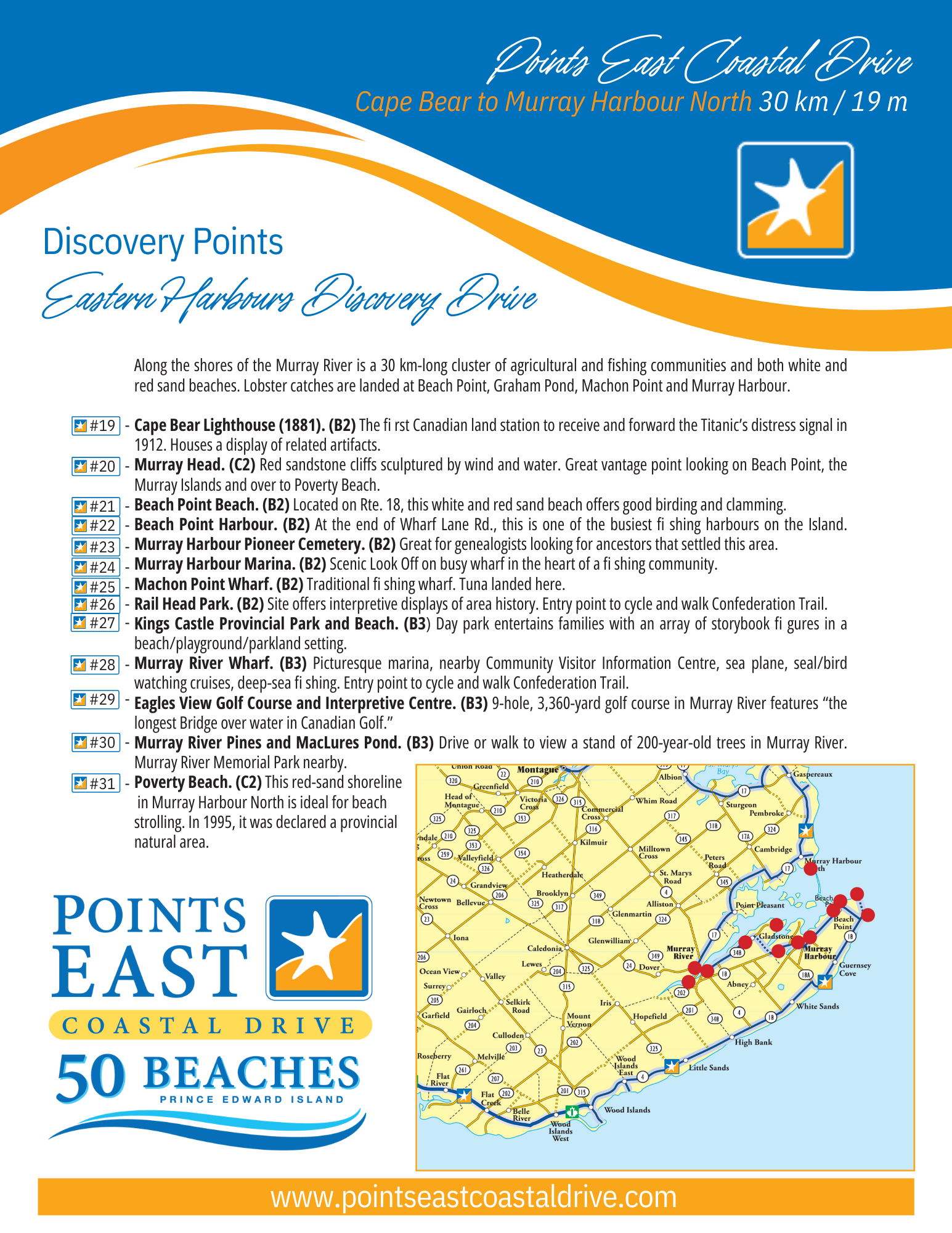 Download Map