Popular white sand beaches, deep sea fishing, museums and music festivals work together to draw thousands of families and couples to this 54km route extending up and around the eastern tip of Prince Edward Island. Souris is the gateway community for ferry travellers to and from Quebec's Les Îles de-la-Madeleine. Birders can discover dozens of species from Bald Eagles to Great Cormorants.
Eastern Beaches Discovery Drive (Rollo Bay to Campbells Cove)
Communities include: Rollo Bay, Souris, Chepstow, Little Harbour, Red Point, Kingsboro, Bothwell, South Lake, East Point, East Lake, North Lake, Elmira and Lakeville.
Attractions include: Museums (Fisheries Museum at Basin Head, Railway Museum and Miniature Railway at Elmira and Cheverie Monument at North Lake); the East Point Lighthouse and Souris Lighthouse (which are open for tours); Provincial Parks (Red Point and Basin Head); Scenic Look Offs (Rollo Bay, Souris Beach, and Kingsboro); a wildlife sanctuary and The Myriad View Artisan Distillery at Rollo Bay; the Matthew MacLean Building in Souris; Heritage Roads (The Glen and New Harmony); beaches (Souris Beach, Little Harbour, Red Point, Basin Head's Singing Sands, Bothwell and North Lake); marinas (Souris); harbours and wharfs (Souris, North Lake). Here you will also experience a variety of dining places,
Activities include: Deep sea and tuna fishing out of North Lake, "Tuna Fishing Capital of the World"; golfing at Rollo Bay; photography, birding, and enjoying miles of fine white sand beaches; cycling/walking Confederation Trail.
Festivals/Events include: The annual Fiddling Festival, Mermaid Tears Seaglass Festival, Golaholla Festival, Village Feast Festival.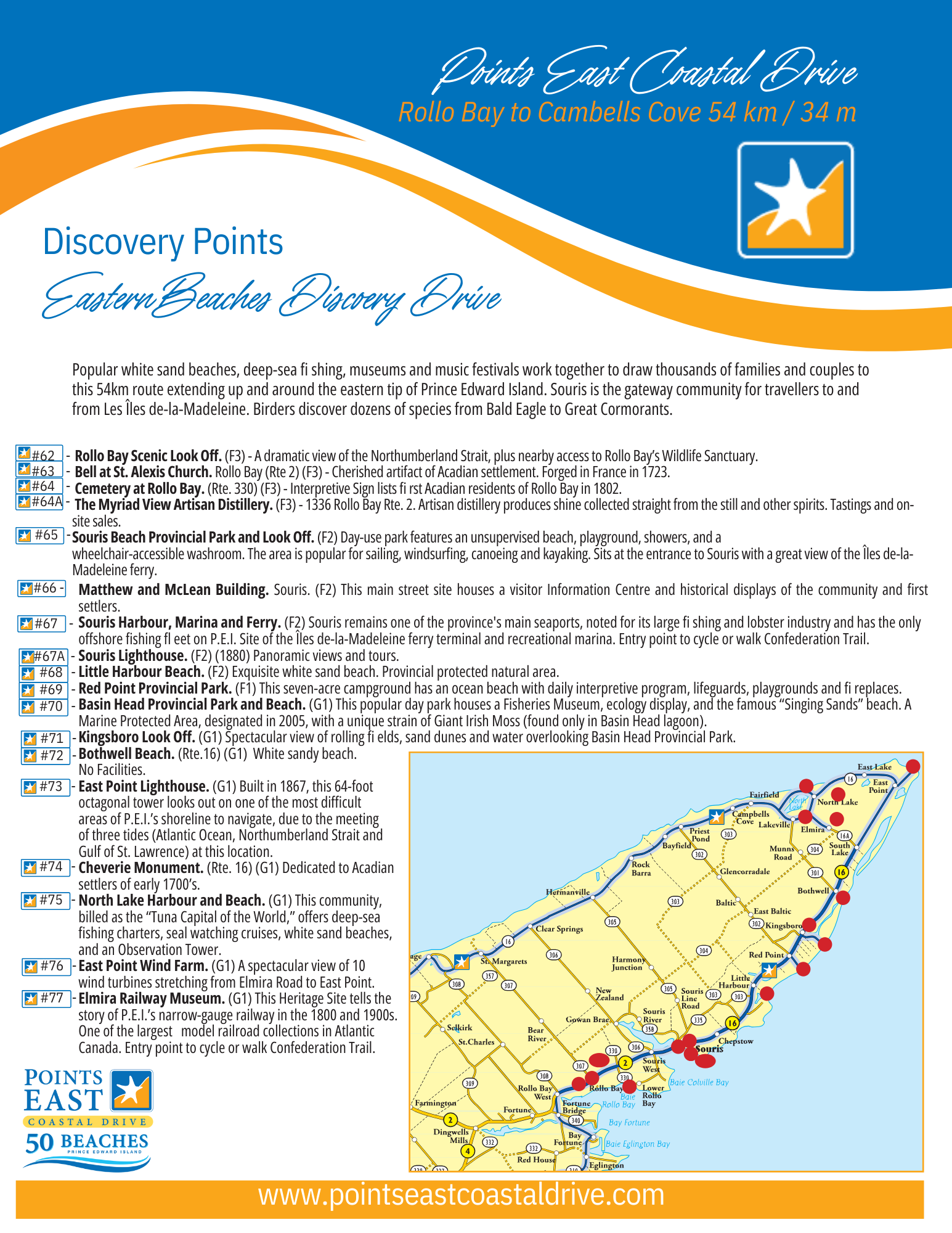 Download Map